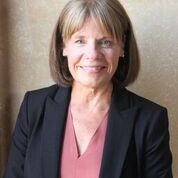 Nancy L. Mitchell, J.D.
President & CEO
As President of Strategic Edge Athletic Consulting, Nancy has extensive experience in the highest level of intercollegiate athletics as a leader and consultant.
Nancy Mitchell has a bachelor's degree in secondary education and a law degree from the University of Kansas. As a member of the NCAA staff from 1985 until 1999, Nancy spent 11 of those years in the Legislative Services Department, serving as Director of the department for five. After she was appointed NCAA Division II Chief of Staff in 1996, Nancy helped develop and implement a new governance structure for Division II. She also served as a member of the Association's senior management team. When the NCAA moved its headquarters to Indianapolis, Nancy chose to remain in Kansas City with her family. Nancy was hired as a consultant to the Division II Conference Commissioners' Association in 2004. Continuing her long and successful career as a leader in intercollegiate athletics, Nancy was named as the Association's first Executive Director in 2009, where she remained until 2011 when she began working for Oliver and Lindemenn Athletic Consulting. She became President and CEO of Strategic Edge Athletic Consulting in 2013.
Strategic Edge Athletics